WE CAN HELP YOU HIT YOUR GOALS WITHOUT LEAVING YOUR OWN GYM
So you've decided that you need to be stronger. Maybe you read a doctor's article reviewing the many benefits of strength training for health and well-being. Maybe you noticed a few aches and pains that seem to be getting worse and are looking for solutions. Maybe you just want to challenge yourself throughout the upcoming year. Learn from a certified Starting Strength Coach (SSC) from wherever you train!
Classes With An SSC
Live Coaching M/W/F
Additional Form Checks In App
Programming For All Lifts
How to Recover/Nutrition
Answer Any Other Questions
Join Other Lifters Online
Form Check Or Consult
One Hour Call With Coach
Form Checks
Programming Recommendations
Nutrition Consultation
Sport/Activity Specific Advice
Any Other Questions You Have
Weekly Programming
Customized programming
Get Slack chat access
Every workout is set, 3x week
Ask programming questions
Chat with other lifters
Get stronger with us
$29
Access to Our Slack channel
What is Live Online Coaching?
TRAIN WITH A BARBELL COACH IN YOUR OWN GYM
All you have to do is grab a tripod, set up your cell phone or tablet, and then log on to our video software and meet your coach. We will call you after your purchase to schedule a time for your 1 hour session and to make sure you have everything you need.
That's it. It's that simple – you will have an experienced barbell coach guide you through the major barbell lifts wherever you are.
Can't make it to our live sessions? No problem. Upload your lifts to our custom software and have them analyzed and broken down by your coach.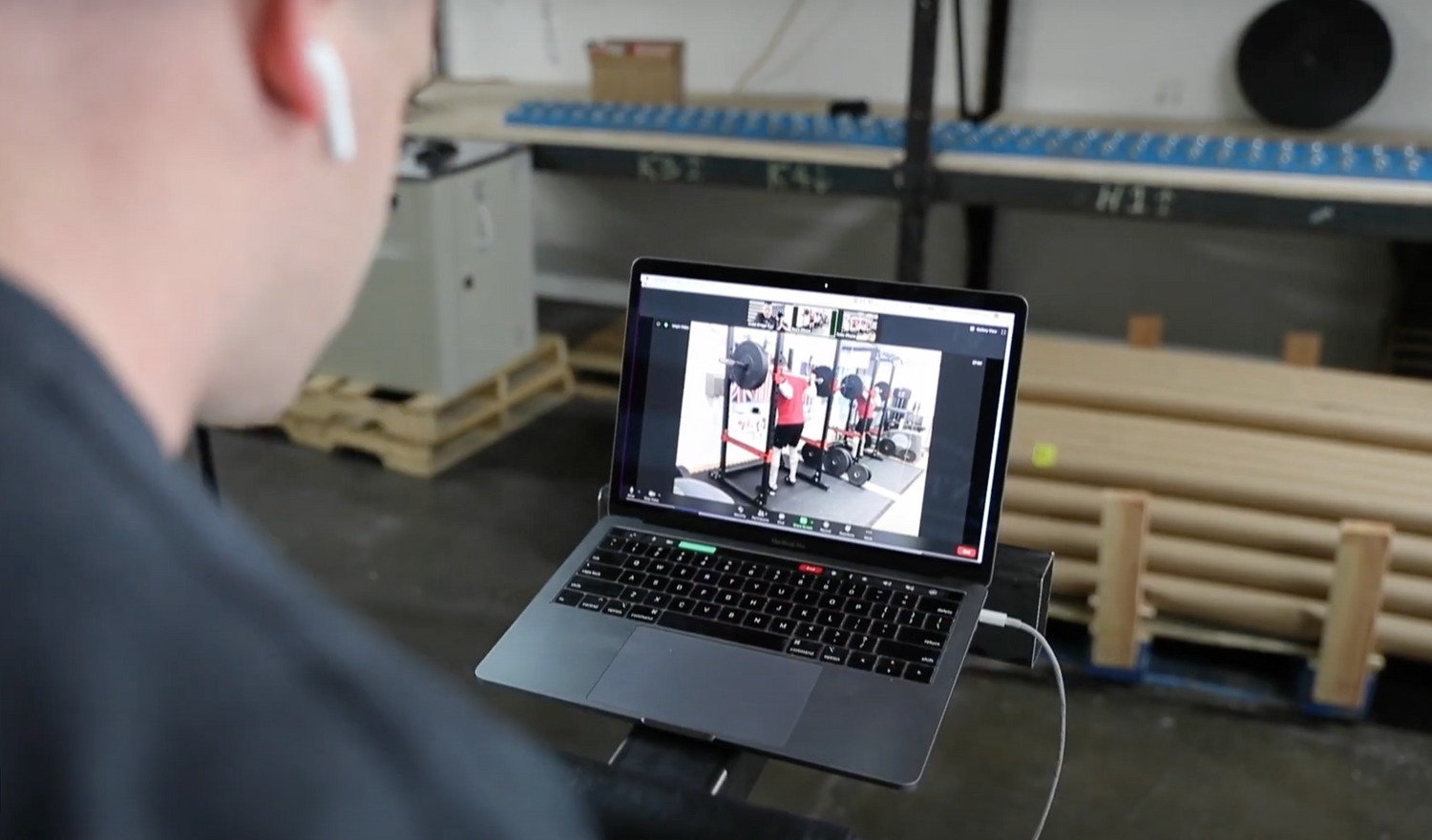 WE TAKE THE GUESSWORK OUT OF YOUR TRAINING
Our live coaching classes provide immediate feedback and help our clients lift in a fun and welcoming group atmosphere.
If you need to send us a recording of your workout, we will make sure you get timely feedback on your session.
But no matter how busy you are, our coaches are here to make sure you see get stronger wherever and whenever you need to train.
Online Class Schedule
Group classes are one hour long and are offered throughout the week.
Monday
Tuesday
Wednesday
Thursday
Friday
Saturday
What Our Clients Are Saying
I've been training with Grant for over 4 years now. He's a fantastic coach who's extremely experienced and knowledgeable. Besides being great technically, he also has the rare gift of making lifting sessions fun and exciting. Getting stronger has had a profound impact on my life. As someone who sits at a desk all day, I used to struggle with back pain. After lifting, my back issues have been eliminated!
Ryan
Grant coached the recent squat/press/deadlift camp in Greenville. It was very well run and absolutely worth the time, effort, and money. Our class ranged in ages from early 30's to late 60's, but Grant was easily able to adjust coaching style as needed. The Q&A session at the end was very informative, and answered numerous programming questions and issues. I would not hesitate to recommend Grant as a Starting Strength Coach.
Kirk
This place changed my life. I started lifting 10 years ago. I always struggled with my big lifts, especially my squat. I struggled to add weight, and my lower back always bothered me after a workout. I knew my form was off, and I needed help. Most importantly, thanks to Brayden's meticulous coaching and support, my quality of life has improved immeasurably. This place changed my life. Thank you Strength Co. and thank you Brayden!
Brian
I started lifting with Grant about five months ago and it's been an incredible journey. Ive had the confidence to lift more and more because I know Grant is closely checking that I am lifting with proper form. I've never been stronger and I've never been more consistent. I am not a morning person but I excitedly get up at 6am in the morning excited to lift.
Carolyn
Grant is a great coach. Very thoughtfully tailored my workouts around my age (71), my new hip and other age-related issues. We've worked together in-person and from afar sharing videos. He's excellent at both. Tough but reasonable and understanding. Highly recommended.
Stephen
The Strength Co has helped me reach a level of foundational strength in my mid 30s that I never thought I could have achieved! As a desk-sitter and complete novice to strength training, I appreciate that their program is structured in a way that slowly helps improve form and technique while progressively challenging you with added weight.
Chetan
GRANT BROGGI
discovered Starting Strength in an effort to find a competitive edge for his Marines while they were deployed to Afghanistan in 2014. It worked. After returning home from deployment, he quickly gained a reputation for having the strongest group of Marines in the unit and was sought out for coaching on a regular basis.

Grant obtained the Starting Strength Coach Certification in April of 2016 and then opened his gyms shortly after. He also currently lectures as a member of the Starting Strength Seminar Staff.
CONNOR KING
discovered Starting Strength while researching safe and effective training programs for his high school athletes. He began interning at The Strength Co. while enrolled in the Starting Strength Coaches Development Course before earning his Starting Strength Credential in the fall of 2019.

Connor is a high school special education teacher with a background in coaching athletics and strength and conditioning. He has a bachelor's degree in Health Science and has a Master's in Coaching and Exercise Sciences. He enjoys working with athletes of all levels and ages.
Learn How To Lift With Us